Boulder Massage Gift Certificates for Your Special One
With Christmas and Valentine's Day coming up, make an easy purchase for a luxurious time your lucky (and grateful!) recipient will always remember.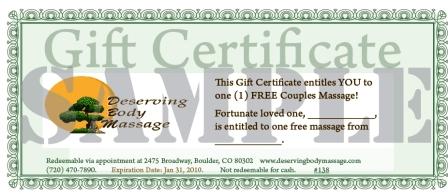 How would you like your massage gift certificate delivered?
I can mail the gift certificate to you, your recipient, or I can keep it on file here for your and your recipient's convenience.
Deserving Body Massage Gift Certificates are also available for purchase here in person. If there is any other route that you may need for your massage gift certificate, simply contact me (link below). :-)
To purchase your massage gift certificate(s), simply go to this page - click here and after your purchase, you simply let me know in the payment box (that says additional comments, right before clicking the payment button), that it's for a gift.
If you need to use a different form of payment, that's fine, simply contact me - click here!
Thank you and looking forward to helping you and that special person in your life!
-J. Rasch