I've never had a massage before…..what to expect?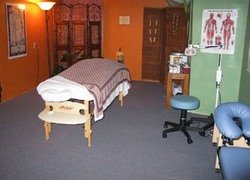 Congratulations on making a decision to further benefit your well-being! For all humans and mammals, touch is clearly important developmentally, emotionally, and physically.
Reduce our anxiety levels
Increase awareness of your mind-body connection
Enhance feelings of well-being
Enhance our ability to monitor stress signals and respond timely and appropriately
Help fight off disease
No need to feel shy when getting a massage!
We all experience times when something unknown causes us to feel a bit apprehensive. No need to here. I go out of my way to establish maximized comfort for you. Some people find it hard to fathom disrobing for a treatment such as massage. Please know that there are several massage styles where you remain fully clothed. Clicking on this link will show you examples of clothed massage.
If you choose a massage that requires disrobing, please be assured that you are comfortably covered with a sheet and/or a blanket. The blanket covers all of you, except for the area that I would be working on. Anytime you feel uncomfortable at any point, want to make comments or suggestions, please feel free to stop the session and communicate it with me!
---
Here is what to expect upon receiving your first massage at Deserving Body Massage:
Preparing yourself prior to your massage
What to expect before your massage
What to expect during your massage
What to expect after your massage
Massage after care
1. Preparing yourself prior to your massage
If at all possible, I suggest that you prepare yourself prior to arriving for a massage.
Some suggestions:
Moderate stretching, especially for Thai/Shiatsu session. Do not fret if you arrive tight or somewhat frazzled as it is my job to provide you and your body a better sense of well-being. Also, I believe it is my responsibility to provide you the tools (specific stretches, breathing exercises…) that you may utilize to enhance your personal health after the session.
It is best if you can wait 1.5 – 2 hours after eating (unless you have low blood sugar) prior to your session.
If you are a smoker, please try to refrain from smoking for at least 2 hours prior to your session. However, it is most important to try to refrain from smoking AFTER the session, so if necessary, choose after the session to hold off on smoking.
2. What to expect before your massage
Once you arrive for your massage session, you and I begin by conducting an intake interview. Please do not be anxious about this process, as it is the initial means by which I may better assist you.
There is a brief intake form that you will fill out, detailing your confidential personal health history, past and present, so that I will know if there are any contraindications, or reasons that massage may not be advisable. As emphasized, I consider every aspect of your session, beginning with the interview, as completely confidential.
After you fill out the intake form, we will talk about your goals and what you hope to achieve from your massage session, including any long-term health goals. In this way, we can assess which massage modality/style would most benefit you and which approach is most suitable.
Once we ascertain which approach we will follow, I will describe how you will be attired and whether the massage will be administered with you on a massage table, mat, or chair. For mat work, you will remain fully clothed in light, Yoga-type apparel (loose cotton preferable), without shoes.
For most table work, you will disrobe to your level of comfort. In either instance, I will leave the room allowing you complete privacy to prepare for the massage. If your massage will occur on a massage table, you will disrobe to your level of comfort, and climb under the light sheet & blanket (can't see through). I will provide you a pager that you can use to page me when you are ready.
3. What to expect during your massage
During your massage, I typically begin with lighter strokes/movements to analyze your muscles and tissues and to determine which areas may require greater attention.
For deeper work, I will ask you to participate by first informing you that we are ready to go deeper and asking you to provide me honest feedback ("please tell me, on a scale of 1-10 with 10 being most intense, what level of pain you experience with this technique").
For mat work, I will ask you periodically if I have reached your stretch range with a specific movement. For most other modalities/styles, I will keep the talking to a minimum to better promote peace and relaxation.
Please try to practice relaxation breathing (deep, full inhalation, long, slow exhalation) through deeper work especially, though relaxation breathing will greatly enhance your experience.
4. What to expect after your massage
Towards the end of your massage session, I will use typically use tapotement, vibration, and/or nerve stroke movements if appropriate.
Please note that there is no set "formula" or routine that I follow as I consider every session unique and specific to my client. I will gently inform you that we are at the end of our massage session and that you may take your time to get up from the table or mat.
Again, I will leave the room so as to provide you complete privacy and you may page me when you are ready. Upon return, I will bring you either tea or water; I would like to visit with you briefly after the massage so that we may discuss how you are feeling, feedback from the massage session, and what requests you may have for a future visit.
I like to provide my clients with some stretching tips that can assist client well-being in between sessions.
5. Massage after care
The most important element to massage after care is to rehydrate, drink plenty of water, for the ensuing 24 hours. Since massage promotes lymphatic movement, it is essential that you further promote the movement of toxins out of your system (through the kidneys) with sufficient water intake for the next day.
As noted previously, if you are a smoker please try to refrain from smoking for at least 2 hours after the massage session.
If we have done deeper work, I advise that you use an ice pack for 20 minutes on the treated area to reduce inflammation; this will minimize soreness you may feel the following day.
Finally, treat yourself with loving kindness so that the benefits of your massage session are extended beyond the session.
---
The benefits of human touch
Schedule a massage appointment
right now - Swiftly and with ease
See all the wonderful benefits of massage
for your health
---